The student works from Drammen
In June 2011 I made an exhibition at Akademiet High School in Drammen. The exhibition was used as graduation exam for students in the media and communication class.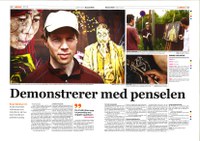 In this folder I show some of the student's great works. News articles in Norwegian only, but project leader Tonje BF Moberg's evaluation of the project is in English too. Tonje BF Moberg is a Cand.polit and team leader media and communication at Akademiet high school in Drammen.