Exhibition at Stovner senter
Really proud about this exhibition focusing on urban dialogue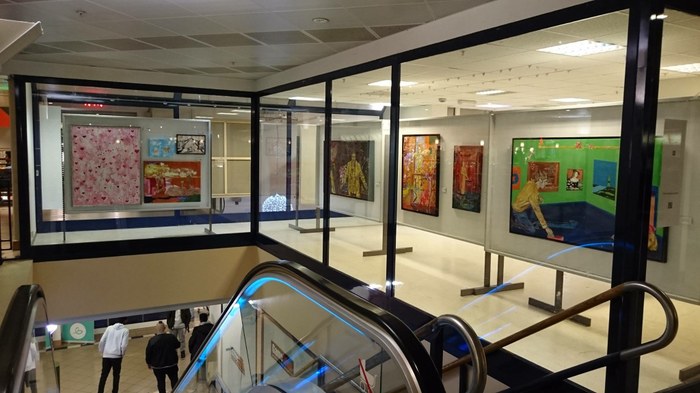 In the Oslo suburb Stovner inhabitants have a large variety of cultural background. A municipality research showed that 94% the people living in Stovner use the shopping center Stovner Senter. From a comunication point of view this makes the shopping center the most interesting showroom in this suburb if you want to reach new viewers and a new audience.

Traditionally shopping centers have not had a high star as shorooms in the art world. Artists rather tend to look at the polished outlets as a place for trade in low intelectual capital one wants to keep distance from. Museums are also not present at the shopping centers.

I worked for six years in the weekends at Trondheim Art Museum who has Norway's third largest art collection. It was in a period with a fairly good number of visitors and a high production of exhibitions. Still we could have days with nearly no visitors at all. Then it is required to think new and the answer is not necesarily new and more spectacular museum buildings. It will still be the regulars who turn up on exhibition openings. This is caused by the fact that one has kept the fundamental mechanism of making the people come to the mueeum in stead of making the museum come to the people.

There is no rule saying that art museums or artists should not come to where the people are, which in the case of Stovner, is Stovner Senter. The aim of art dissemination is that as many as possible experience and come at grips with art. Shakespeare understood this when he in 17th century England built The Globe and provided theater to the commons. As a didactic project is example is an endless success.

With joint satelits in shopping centres our museums could together contribute to creating gould meetingpoints. A diversity of operating models and ways of implementation can be envisaged. For my part I found a showroom which was temporarily available due to reconstruction work at Stovner Senter.
 
The Exhibition Urban talk has been well received by the managament at Stovner Senter, the cafe next to the showroom and Oslo municipality representatives. Oslo municipality has through a long running project had creation of good meetingpoints as their aim.