Exhibition at Pirsenteret
This week I opened an exhibition together with ceramic artist Per Lysgaard at Pirsenteret innovation and business centre in Trondheim. The exhibition will be open on weekdays from 0900 to 1500. Last exhibition day is June 5th.
Art in new spaces
During the last year I have investigated how art can be a part of society as something more than a displayed object. I therefore find it very interesting to make this exhibition at Pirsenteret innovation and business centre, where so much research is done on how new  inventions may find new markets. I also find it very pleasing to arrange this exhibition together with ceramic artist and colleague from the Business Development fro Artists pilot, Per Lysgaard. The combination of sculptural works and paintings became exceptionally good. The paintings I show  on this exhibition discuss topics I have been concerned with the last year, and that have been exhibited both in Norway and abroad.
Art as debate
At the beginning of my career as a painter artist, I used painting to get a grip of my own history so that it could no longer have a grip on me. Now, I rather use this history as a starting point and a window of opportunity.  That is why I always come back to the past. But today my paintings are also often  made as ammunition in a political debate.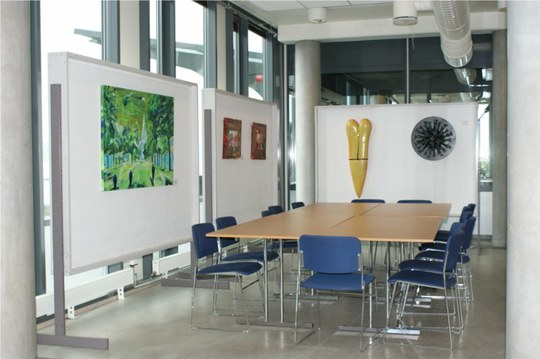 Fishbowlship
Fishbowlship is the name of my exhibition first presented at the student festival RUKA at the Norwegian Marine Technology Research Institute (MTS) in Trondheim in October 2010. It was later, in March 2011, shown during the Plone community's Artsprint at the Academy of Fine Art in Vienna, and at Mannhullet's shipping conference in Trondheim. I have for years had a strong interest in open source software and open development processes. As my involvement with this grew, I started to believe that the marine technology institute I earlier was a part of at the Norwegian University of Science and Technology (NTNU), could move it's science a long step forward if open processes and meeting places on the internet were taken into use.  The Fishbowlship exhibition became an argument for this. I have tried to analyse design processes through art. The method has been to move what I learned about naval architecture at the university into new spaces.. The result was nine paintings made specially for this project. There is more information about Fishbowlship here on my web pages. The common theme  is the internet which is compared to a fishbowl. The problem to be solved, for instance a new ship design, is put into the fishbowl, and thus viewable, and solvable, from all directions.
Svolværraidet memorial exhibition
March 4th this year it is 70 years since  Svolværraidet ,or operation Claymore as it was called in the UK, took place in Svolvær in Lofoten in Norway. My grandfathers brother, Kyrre Sørstrøm, was among the many who embarked the English warships returning for England after the raid. He wanted to fight against the nazism. Also my grandfathers nephew , Brynjulf Grindedal, embarked for England. He was not allowed at home to go. He was too young. But he  took his sailor boots in the  hands, tiptoed out, and went. Maybe these men were adventurous. At least they were young. But they stayed in the service to the end of the war. That bares witness of a sense of duty beyond the reach of the adventurousness of youth. That is the truth of many of our soldiers who are serving abroad today too. As a part of a larger memorial ceremony for Svolværraidet in Lofoten Kulturhus in Svolvær, I made  a separate series of paintings based on photos Kyrre returned with from the war in Europe. I wanted to contribute to this ceremony to honour those who do their duty for their country.